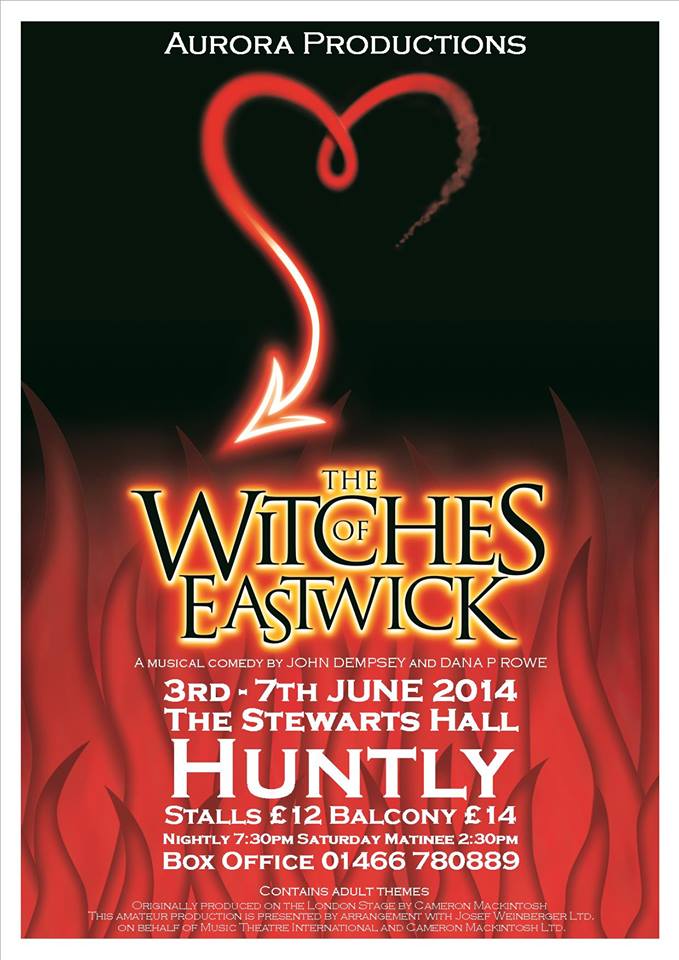 In Eastwick, New England – a small town not too unlike Huntly – something devilish is afoot. When three of the town's female residents grow tired of their small town life, they – with the help of a few martinis and the true power of sisterhood – accidentally summon a man of the likes no one in Eastwick has ever seen. Mr Darryl van Horne is handsome, charming, rich and just a little bit evil. His presence knocks the town into disarray. His antics and romances bring with them shock, awe and a whole lot of hilarity. But will his charisma and allure woo Suki, Alex and Jane, or will the three women see through his charms and rid Eastwick of van Horne's cruel intentions? All this remains to be seen in Aurora Production's Witches of Eastwick, running from Tuesday, June 3 until Saturday, June 7 in the Stewart's Hall, Huntly. The musical comedy contains some adult themes and may not be suitable for young children. However, Aurora have worked to ensure that their production is not offensive and is still a brilliant night out. Tickets are £12 for stalls and £14 for balcony. Groups of 10 pay for only 9 tickets. Book now to avoid disappointment.
The upbeat dance numbers, powerful ballads and close harmonies will make this Aurora Production's most challenging and fun filled show yet.
And if that isn't enough to excite you, wait till you see our 3 Witches fly across the audience!
Principal Casting:
Alex – June Cranna
Jane – Liz Ingram
Suki – Mallory Peter
Darryl Van Horne – Colin Black
Michael – Fraser Cranna
Jennifer – Annie Lennox
Little Girl – Rebecca Henderson and Carolyn Thomson
Felicia – Alisanne Ennis
Clyde – Neil Forsyth