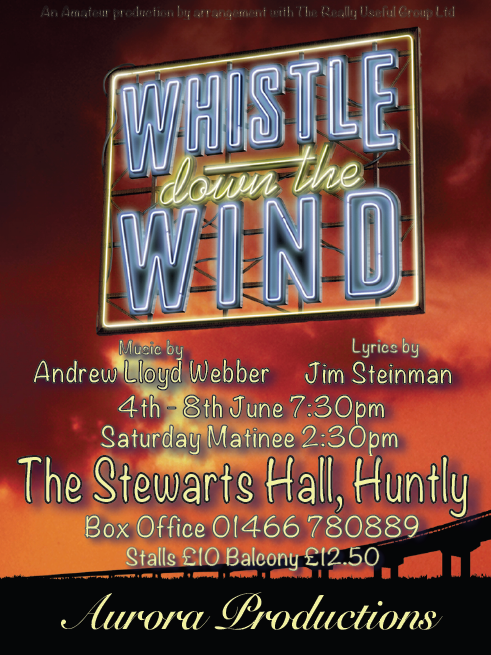 Whistle down the Wind is based on the novel by Mary Hayley Bell which subsequently became a film starring Hayley Mills and produced by Richard Attenborough in 1961.
Whistle down the Wind, with music by Andrew Lloyd Webber, lyrics by Jim Steinman and book by Patricia Knop, Gale Edwards and Andrew Lloyd Webber, opened in the West End in 1998 running for 1044 performances before closing in 2001. Since then it has successfully toured the UK and the USA.
The musical is set in America's deep South in the Fifties, and is the story of a fugitive caught between the prejudice of adults and the innocence of the young. Andrew Lloyd Webber's emotive score combines hauntingly beautiful love songs and explosive rock music, songs include Whistle down the Wind, A Kiss is a Terrible Thing to Waste, When Children Rule the World and No Matter What.
Principal Casting:
The Man – Colin Black
Swallow – Iona Fyfe & Cait Lennox
Little Brat – Rachel Carstairs & Jenny Martin
Poor Baby – Sorley Fairbairn & Kirsten Henderson
Boone – Colin Page
Ed – Gordon Butterfield
Amos – Tom Sergeant
Candy – Ciara Ennis & Leonie Page
Earl – Becky Martin
Preacher – Ken McRae
Sheriff – Peet Michielsen
Deputy – Liz Ingram
Aurora Production's performance of Whistle down the Wind has been highly praised, with everything from its sound and lighting to the beautiful singing attracting great credit.
As a show Whistle could not have been more different from Beauty and the Beast, and came with a whole new set of challenges. With its difficult harmonies, heart wrenching scenes and a group of 30 children, Whistle proved to be a task that tested Aurora in many ways, but that the group took on whole heartedly and pulled off with great ability.
The local Huntly express said about the show – 'anyone who did not make it along, missed something really special delivered to them in their home town but which could rival many shows presented on major city stages'.