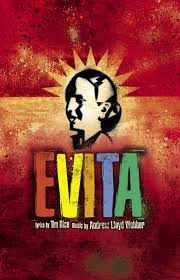 Evita features music by Andrew Lloyd Webber and lyrics by Tim Rice and is one of their most successful musicals. The show is based on the life of Argentine political leader Eva Peron who became the spiritual leader of the nation rising from nothing to become one of the most famous political figures in the country's history. The show tells her rise to fame through the eyes of the people, using an omniscient narrator to chart her journey. The show had an incredible run in the West End and on Broadway and now, for one week only, comes to Huntly!
This production marks the first adult amateur production in the North East of Scotland.
EVITA runs from the 7th to 11th of June.
TICKETS ARE NOW ON SALE.
Please call our box office on 01466 780889 or visit our box office! BOOK NOW!
Eva Peron – Mallory Peter / Bekkah Davidson
Che  – Colin Black
Magaldi – Martin Bell
Juan Peron – Mathew Patman
Mistress – Jenna Law / Carolyn Thomson