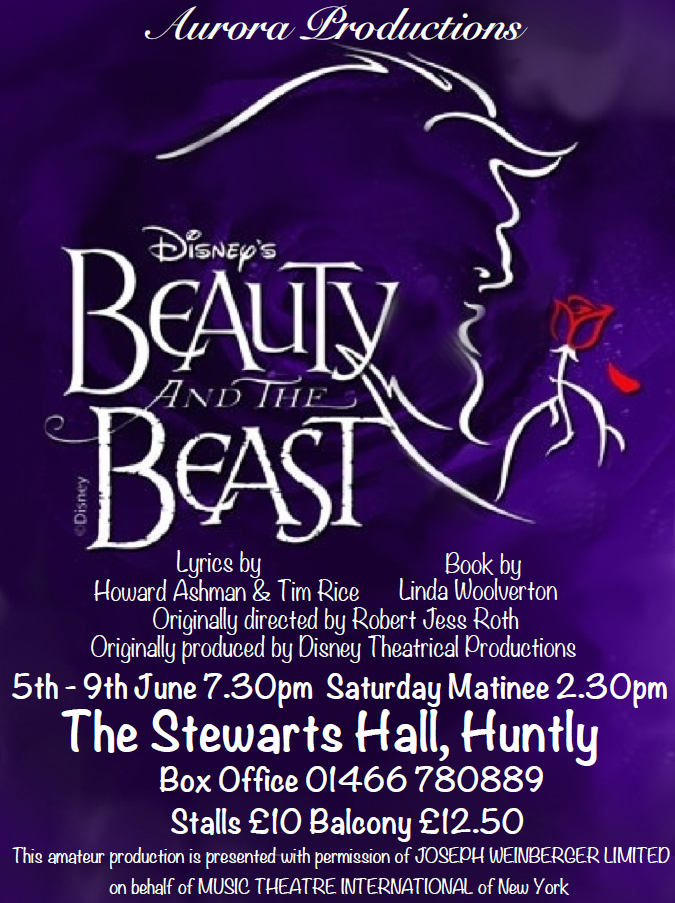 In June 2012 Aurora Productions put on a very successful production of Disney's Beauty and the Beast. Performing to over 1500 people over six shows it was a very exciting week.
Beauty and the Beast was rehearsed for 9 months and involved much hard work for all involved doing intensive training on group vocals, solo singing, acting, characterisation and dance.
Beauty and the Beast is a story of true beauty and understanding. Adapted from the popular Disney film it tells the story of Belle as she slowly learns to love the ugly beast in whose castle she has been captured. Is he able to make her fall in love with him before time runs out and he will be forced to remain a beast for all eternity? With many twists and turns along the way Beauty and the Beast is a great story for all the family! With popular songs such as Be our Guest and Tale as old as Time, Aurora Productions triumphed with their bright and fast paced musical.
Principal casting:
Belle: Ciara Ennis & Annie Lennox
The Beast: Colin Black
Lumiere: Ken McRae
Cogsworth: Gordon Butterfield
Mrs Potts: June Cranna & Denise Page
Chip: Kirsten Henderson, Jenna Law & Aicha Sutcliffe
Babette: Cait Lennox
Madame de la Grande Bouche: Alisanne Ennis
Gaston: Gwyllym Hunter
Le Fou: Emily Page
Monsieur D'Arque: Peet Michielsen
Bimbettes: Jill Andrews, Becky Martin, Lauren Pitman
Maurice: Peter Davis