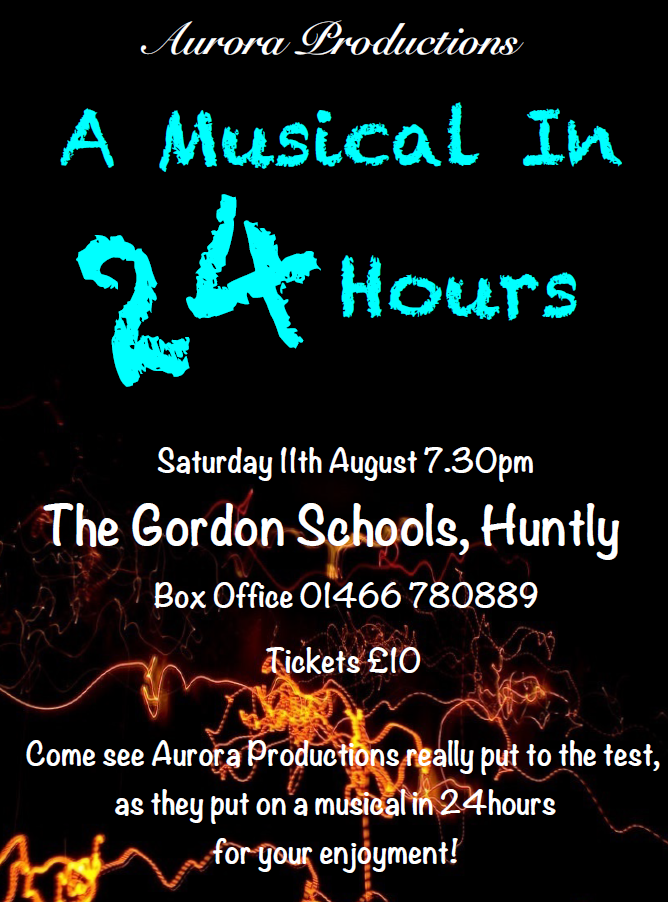 On the 10th August the cast members of Aurora Productions met in the Stewarts Hall in Huntly ready to embark on a mad 24 hours of preparations!
On arriving at 7.30pm the cast were told that the show they would be performing in 24 hours' time would be Annie and they quickly rushed into rehearsals grabbing sleep here and there between dancing, singing and acting. It was stipulated from the start that nobody would be using scripts on stage and therefore everyone had a lot to do right from the start.
The three part team of Hannah, Hugh and Emily Tanton worked tirelessly all night to put together a production that at least resembled the Annie we all know and love!
Alongside the cast, from 7am stage crew started work on building the set, sorting the lighting and procuring props. It was a full team effort that finally had us ready for our 7.30pm opening on Saturday night!
Though Annie did not go without a few hitches it was a hilarious and mostly accurate portrayal of one of Britain's most popular musical with the leads Annie and Miss Hannigan being widely acclaimed in their roles.
The profits made from the 24 hour musical have gone into a bursary which will be used to assist Aurora members to go on arts based courses.
Principal Casting:
Annie – Rebecca Henderson
Miss Hannigan – Lauren Pitman
Daddy Warbucks – Colin Black
Grace Farrell – Cait Lennox
Drake – Colin Page
Lily St Regis – Jill Lennox
Rooster Hannigan – Ken McRae
President Roosevelt – Gordon Butterfield
Duffy – Carolyn Thomson
July – Annie Lennox
Kate – Jenna Law
Molly – Kirsten Henderson
Pepper – Iona Fyfe
Tessie – Leonie Page